Seville is a city rich in history, culture and beauty. Its warm and sunny climate, beautiful monuments, delicious gastronomy and friendly people make it an ideal tourist destination for a weekend getaway. If you are looking for a holiday destination in 2023, don't miss the opportunity to visit this beautiful city. In this article, we present you the main advantages of visiting Seville.
Warm and sunny climate: If you are looking for a warm and sunny climate, Seville is the ideal destination. With an extraordinary temperature that allows you to enjoy the city all year round. In addition, rainfall in the city is scarce, which means you can enjoy your holiday without worrying about the weather.
Historical and cultural heritage: Seville is a city with a rich history and culture. It is home to numerous monuments and historical sites, such as the Cathedral of Seville, the Torre del Oro, the Real Alcazar and the Plaza de España. It is also famous for its cultural heritage, such as flamenco and Semana Santa.
Exceptional gastronomy: Gastronomy is one of Seville's main attractions. It is known for its traditional dishes and for its wide variety of local and regional wines.
Affordable accommodation: Seville is an affordable city in terms of accommodation. You will find a wide variety of hotels, aparthotels and tourist accommodation at very reasonable prices. In addition, the city has an excellent public transport network that will allow you to get around easily.
Friendly and welcoming city: The citizens of Seville are characterised by their friendliness and hospitality. The city is welcoming and you will feel welcome from the first moment you arrive. Moreover, Sevillians are very proud of their city and will be happy to share with you their knowledge and passion for local history and culture.
Here are the main tourist attractions in Seville:
Seville Cathedral: Seville Cathedral is one of the largest Gothic cathedrals in the world. It was built in the 15th century over the city's mosque and has an impressive bell tower, the Giralda, which is Seville's most recognisable symbol.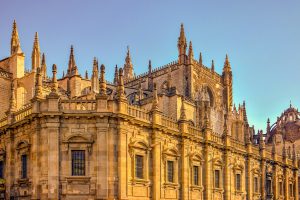 The Real Alcázar: The Real Alcázar is a fortified palace built in the 14th century for the Muslim monarchs and extended by the Christian kings. It is an impressive example of Mudejar architecture and has beautiful gardens and courtyards with fountains and tiles.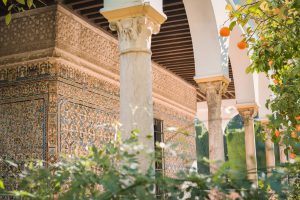 Plaza de España: The Plaza de España is a monumental square built in 1929 for the Ibero-American Exhibition in Seville. It has a semicircular shape and is surrounded by a canal with bridges and an impressive building with towers and domes. It is one of the most photographed places in Seville.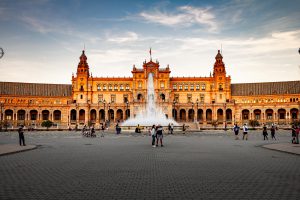 The Santa Cruz quarter: The Santa Cruz quarter is the most touristic quarter of Seville and is known for its narrow cobbled streets, white houses and flower-filled courtyards. It is a charming place to stroll around and get lost among its squares and alleys.
The Torre del Oro: The Torre del Oro is a defensive tower built in the 13th century to protect the city from naval attacks. It now houses a naval museum and offers impressive views of the Guadalquivir River and the city.
Maria Luisa Park: Maria Luisa Park is Seville's main park and is a perfect place to relax and enjoy nature. It has extensive gardens, fountains and statues, as well as several historic buildings, including the Archaeological Museum of Seville.
Feria de Abril and Semana Santa: Seville is famous for its flamenco art and its celebration of Semana Santa. You can attend flamenco shows in numerous tablaos and bars in the city, as well as enjoy the processions and religious celebrations during Holy Week, which are considered the most important in Spain.
When visiting a city like Seville, it is essential to select accommodation that suits your needs and preferences. One of the amenities that many hotels offer is room service, which can be very useful and convenient during your stay. Here are some of the advantages of enjoying room service at your accommodation when visiting Seville:
Comfort and convenience: If you have had a tiring day visiting the city you have the possibility to choose to dine in your room and enjoy a delicious meal while you relax and recover for the next day.
Privacy: Another advantage of room service is the privacy it offers. If you prefer to enjoy lunch or breakfast in the privacy of your room, you can do so without having to worry about other hotel guests. In addition, Le Room Service is discreet and quick, allowing you to enjoy your food or drink without interruption.
Variety of options: Le Room Service offers a wide variety of F&B options, allowing you to choose what you fancy at the time. In addition, vegetarian, vegan and gluten-free options are also available to meet the dietary needs of any guest.
Hourly availability: Another advantage of room service is that it is available 24 hours a day, which means you can order food or drink at any time, even if you arrive late at night after a long day of sightseeing. This is especially useful if you are hungry and don't feel like going out to look for an open restaurant.
In short, Seville is a city that has it all: a good climate all year round, an enriching historical and cultural heritage, exceptional gastronomy, accommodation to suit all budgets and a friendly and welcoming city. Room service can be a great advantage for those visiting Seville who wish to enjoy the comfort, privacy and variety of food and drink options offered by this service. In addition, availability and time and energy savings are other important advantages that you should take into account when choosing your accommodation in Seville. Don't think twice and book your holiday in Seville in 2023. We assure you that you won't regret it!